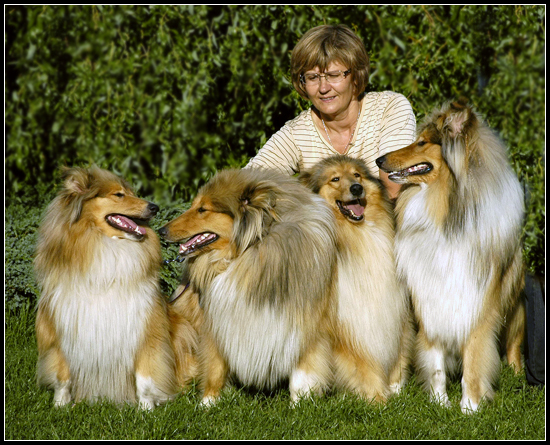 Animals have been present in my life ever since I can remember.
My rabbit friend, after whom I cried with grief when she ended up as an Easter meal (I haven't touched rabbit meat since), Felek the cat, dogs Kama, Czarek, Borys and Kazan, endlessly breeding hamsters, abandoned nestlings of sparrows, rooks or pigeons... they were our permanent household members.
On my way home form school I was always accompanied by a group of stray and non-stray yet neglected dogs from the neighborhood, dogs I fed with my leftover lunch sandwiches. This is the reason my Mom started calling me "the dogs' mother", a nickname my family has accepted and used.
The situation didn't change drastically when I moved out and started living on my own. There was always a poor fellow to look after – Pu¶ka, which Szymon scared out of a bush and because of that she fell under a running car, Behemot, becuse nobody could go indifferently by a miaowing cat, marching in the middle of the street... However, up until 1994, all my animals, though extraordinary, were of non-aristocratic origin.
In 1993 I met a collie sheepdog for the first time. He wasn't beautiful according to today's standards of tricolor, no stop, no fur and standing ears, yet I was bewitched with the seductive look of his wonderful, almond-shaped eyes (especially when he tried to charm a potential food donor) and his easiness to become an important family member. Oh, and the way he moved... graciously. Many of today breed representatives could envy him his anatomic build.
And so my dream of having my own collie has become an obsession.
In 1994 my husband and I were walking in pouring rain down a road with neither a shoulder nor a sidewalk towards a place which, as it turned out later, became the very beginning of my great lifetime adventure and passion.
This place was the Polcolland animal kennel, where we bought our first dream collie bitch Coca-Cola Polcolland. We called her Chmura ("Cloud") to remember the terrible weather of the day we'd got her.
She has become the founder of my breed. Her wonderful character, full of gentleness, distance and dignity, made us true lovers of this particular breed.
I cannot forget about another wonderful bitch we got thanks to Ms. Jadwiga Niciewicz. I mean DAFI MAYDAY from Psia Oaza. Dafi presented us not only with numerous show successes, but also beautiful puppies: the N litter, including deceased beloved NIVELLEN and the L litter – LEON and LAILA (both left on the farm) and LUKE-ARIEL who went to live with Agnieszka Dec. [www.ariel.mono.org.pl]
The year 2008 brought us a great surprise and change. A new member has joined our numerous human and animal family. It's a border collie NNL NO LIMITS "Czeko¶".
Again, life shows us that a man learns all his life. Surely, life is full of surprises. An everyday comparison of the two breeds has been a continuous passionate surprise. And though I have loved collies with my first love, I need to admit Czeko¶ leaves them behind. When collie runs, border whizzes, when collie learns, border jumps at the know-how, when collie cooperates, border reads minds... They're comparable only when it comes to fur.
I give my thanks to Ewa Łukasik for Czeko¶ – my second, though no shallow love, for Czeko¶ who moved into our bedroom and bed (and she snores heavily ;)).
Our animal farm is a family farm. Few litters are always carefully thought over, carers-to-be are carefully assessed. We train all puppies in the house, they constantly meet family members and other animals, which enables them to adapt easily in a different environment.
All dog and other animals lovers are always welcome at Stumilowy Las ("Ashdown Forest").
Drop in!

I'd like to thank Agnieszka Dec and Tomek Mońko for their input, effort, time and diligence they showed while creating this site.
Thanks to my son, Szymon, for marvellous pictures for our gallery. Regis, you have always been the man to capture unique moments.