OTHER RESIDENTS OF STUMILOWY LAS
PLOTKA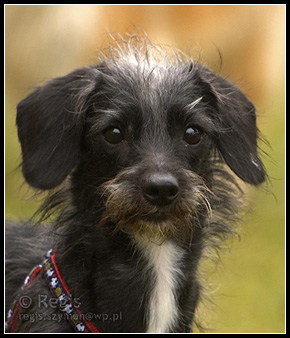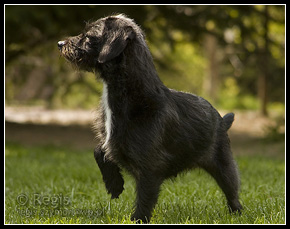 Although Stumilowy Las is, as a rule, a home of pure-bred animals, there's always a place for people and God forsaken animals. For many years we used to have cats. They would appear in Stumilowy Las hurt or abandoned and live here til the end of their days. Yet I started thinking we should have a dog, who's craving for love and happiness. One night I accidentally found an animal shelter web site. I was surprised with the number of successful adoptions and with the passionate commitment of the volunteers working there. At the time I didn't know that there, on that very website, I'd meet one of the greatest creatures in the world. Plotka has a heart bigger than her entire body.
The tiny doggie, almost starved to death, was appropriately called Znajdka ("A found one"). Her eyes on the computer screen were filled with longing and love. And I knew it would be a returned love from the first sight. I asked my husband whether we could take her. He smiled and asked a little ironically: "Isn't there a needy dog closer to home?"
And so... after a talk with Kajetan from the dog shelter and after an unbearably long time of quarantine, thanks to anonymous volunteers (I'll be grateful forever) we finally had this small black dog we called Plotka. Eventually she has stolen not only our hearts, but also Czekosia's – people who know Czekosia know what this means. The two have become playmates. For us, Plotka has become our "little baby girl".

MINKA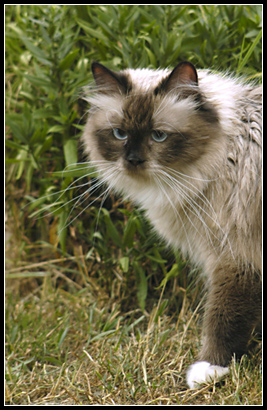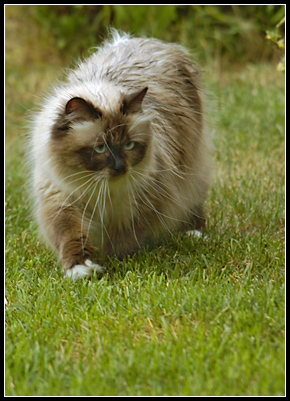 In 2005 my beloved cat Wiedzmin had gone out for, as it turned out later, his last roving. I made it 3 months without a cat at home.
At the end of March I got a birthday gift from my husband. It was a siberian cat, neva mascarade. We called her Minka ('A face') because of her expressive face.
As it often happens to inexperienced buyers (we know little about cats!) we got a baby cat. A vet exam later told us Minka was 5 years old and hadn't been vaccinated. She didn't know how to eat. We had been promised a pet vaccination book and her pedigree, but we haven't received them to this day.
Eventually, Minka fell down with feline catarrh and suffered a long time.
It did affect her character. When she was 3 months, our vet cried as he saw her: "Ladies, the tiger is here! Who's willing to tame her?" Strange as it may appear, everyone within sight suudenly ran for other, safer jobs.
Nothing has changed since. Everybody who is familiar with Minka know that we should rather have a sign that reads "Beware of the cat!"
Other animals, be it household member or guests, respect her. It is only our border Czekosia, known as the "Texas ranger", who tries to bring Minka to heel from time to time.
We advise our guests on their arrival never to stroke the cat, despite Minka's sweet look.
Well, she's a beautiful cat with wonderful blue eyes but with a terribly awful character.

JASKIER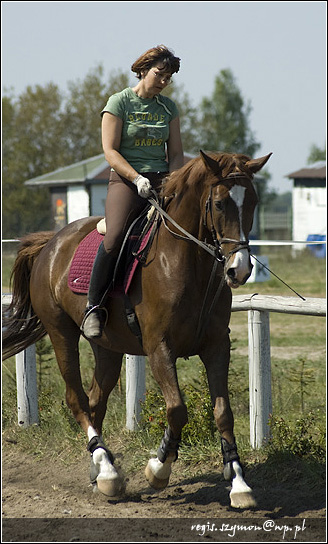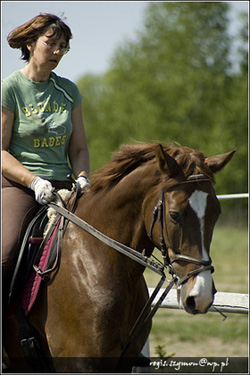 He's a dream I managed to fulfill after my 40th birthday, my own horse. He's been my companion in dressage for the last 5 years. I got him as an 18-month-old. He's devoted, reliable and gentle towards us, but independent and often frisky towards others.

GALLERY